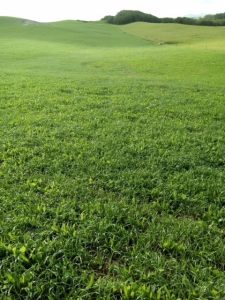 Recently, David Bellinger, a Flinders Island based pastoralist provided some feedback to his fertiliser supplier, Agrifert.
David has been trying to achieve balance in his 1,150 ha pasture enterprise for many years, where he currently runs 2,000 head of Angus and Angus cross cattle.
In 2017 he met Nick Barnes at a Flinders Island growers day. Nick runs Agrifert, a fertiliser distribution company based in Somerset, Tasmania who also services the Flinders Island and King Island areas.
Part of David Bellinger's 1,150 ha of pasture on Flinders Island.
After that meeting, David decided to move to using BioAg's BioAgPhos as the main component of his pasture fertiliser program. David's resulting program was BioAgPhos, BioAgSoP, sulphur, boron, zinc, magnesium and cobalt.
In David's words "in the past I have been lucky to induce 5% clover. This year the signs are for 85% clover". "The clover is a healthy dark green, which I have never seen here before".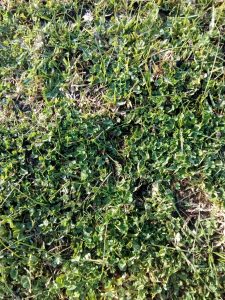 David puts this down to the BioAg inputs being non-leaching.
David has no doubt that BioAgPhos has been the mainstay and the carrier for the other elements used.
More about Agrifert
Agrifert are a fertiliser distribution company based in Somerset, Tamania, and service farmers in Tasmania, Flinders Island and King Island.
Agrifert was started by David and Nick Barnes in 1995 after the pair saw a need to supply farmers with fertilisers and other nutritional products that suited the sustainable agricultural market in the area.
Agrifert are now a leading supplier of natural and sustained release fertilisers, sourcing the best quality inputs from around the world based on scientific results.
Agrifert
Nick Barnes – 0400 183 832
Shed 5, 2 Reece Court
Somerset, Tas
www.agrifert.com.au